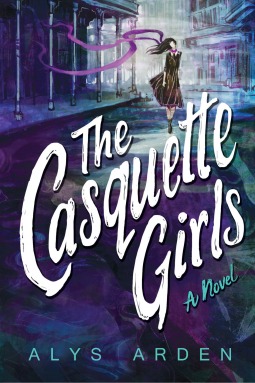 The Casquette Girls by Alys Arden
**This review is based on an ARC from Netgalley, release date 11/17/15.
I have not had much time to read lately, so forgive me for this review being so far after the release date; but, I had to write one for this book.
Adele returns to New Orleans after a horrible hurricane has hit and destroyed the city. She was sent to live with her mother in Paris while her father sought shelter in Florida. Upon return, Adele is horrified to see how sad her city has become and vows to stay and help it become what it used to be, even though she will have to attend a school she will hate. She also meets some new people who are there looking for family members and another who is helping rebuild the city. While dealing with a bit of a love triangle, she discovers that she has accidentally helped to break an age-old curse that has released vampires into the city. She discovers a journal from an ancestor named Adeline, and also that she has some "witchy" powers. She uses the information gained from Adeline's journal to help restore the spell that will contain the vampires so that they can no longer wreak havoc on the city.
I was basically obsessed with this book from the beginning, because I am obsessed with New Orleans. It provided so much history of the city, while still being entertaining and not reading like a book of facts. It did take me a while to get through the book, but that's only because I have been extra busy this past week.  I still made time to read every day, just not as often as normal. There was some romance involved in this book, but it was definitely not the main focal point and I liked that. There was no easy, insta-love (we know how I feel about that! Ugh!). This book was more supernatural/paranormal than anything, but did not seem too unrealistic. Adele was an interesting, easy-to-like character; as were most of the others. I will be recommending this book to my students and waiting impatiently for the second one.
My rating: 5/5