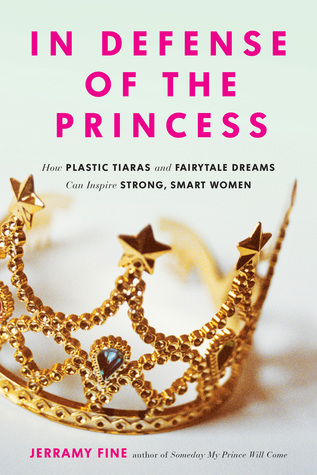 In Defense of the Princess by Jerramy Fine
**This review is based on an ARC from Netgalley, release date 3/22/16.
Summary from Goodreads:
It's no secret that most girls, at some point, love all things princess: the poofy dresses, the plastic tiaras, the color pink. Even grown-up women can't get enough of royal weddings and royal gossip. Yet critics claim the princess dream sets little girls up to be weak and submissive, and allows grown women to indulge in fantasies of rescue rather than hard work and self-reliance.
Enter Jerramy Fine – an unabashed feminist who is proud of her life-long princess obsession and more than happy to defend it. Through her amusing life story and in-depth research, Fine makes it clear that feminine doesn't mean weak, pink doesn't mean inferior, and girliness is not incompatible with ambition. From 9th century Cinderella to modern-day Frozen, from Princess Diana to Kate Middleton, from Wonder Woman to Princess Leia, Fine valiantly assures us that princesses have always been about power, not passivity. And those who love them can still be confident, intelligent women.
Provocative, insightful, but also witty and personal, In Defense of the Princess empowers girls, women, and parents to dream of happily ever after without any guilt or shame.
My thoughts:
Well, let me start by saying there could not be a more perfect book for me to have come across. Obviously (hence the title Library Princess), I have always thought that I am a princess. It doesn't hurt that my mom named me Sara, which means princess. I love all things princess, sparkly, and pink and am about the most girly person you will ever meet. I enjoyed the first part of this book and found I really related to the things that were being said. However, as the book went on, I did feel like it was a bit repetitive…keep in mind that I am NOT a nonfiction reader, so this was a stretch for me. I really did like reading about all the actual royal princesses as well and seeing the things they were all involved in. Overall, the writing style was good and the author was humorous, but this is definitely targeted to a specific audience. I do think I should recommend it to my some of my princess "critics" though…ahem, MOM. 🙂 The overall theme is a good one, that princess are powerful, not weak and sensitive.
My favorite line (remember this is an ARC so it could change):
"Maybe instead of telling our girls that their brains are filled with too much princess, we should focus on telling our boys that their brains don't contain nearly enough prince."
Preach, sister! 🙂
My rating: 4/5