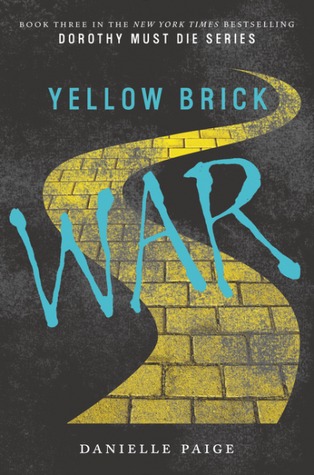 Yellow Brick War by Danielle Paige
Summary from Goodreads:
Amy Gumm's mission to take down Dorothy Gale is not going according to plan. Dorothy has found a way to bridge the worlds of Oz and Kansas, and if the power-hungry dictator of Oz has her way, Kansas will be destroyed forever. Now, Amy has to team up with the Revolutionary Order of the Wicked to save her home, restore the balance between the magic and non-magic worlds, maybe get the guy—and kill that not-so-sweet Kansas farm girl once and for all.
My thoughts:
I was excited to read this one, though it took a while for me to get my hands on it, because I have loved the series. I have recommended it to a lot of my students and they have enjoyed it as well. This one did not disappoint either, but why, just why, Toto?! Anyway, I liked that this story took Amy back to her home and involved both worlds, Oz and Kansas. Amy was worried that people in Kansas wouldn't believe her about where she has been, but when they see it with their own eyes, they can hardly deny it, right? There is quite a bit of complexity and unanswered questions about some of the characters left after this, so I am anxious to see what happens in the next book, as always!
Also, guys, I am going to BEA and BookCon next month and Danielle Paige will be there……EEEEEEKKK! 🙂 Total fangirl moment!
My rating: 5/5