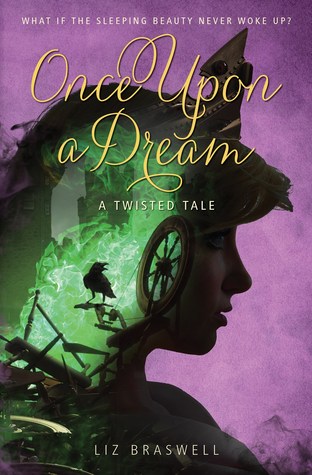 Once Upon a Dream by Liz Braswell
**This review is based on an ARC, release date 4/5/16.
Summary from Goodreads:
What if the sleeping beauty never woke up? Once Upon a Dream marks the second book in a new YA line that reimagines classic Disney stories in surprising new ways.
It should be simple–a dragon defeated, a slumbering maiden, a prince poised to wake her. But when said prince falls asleep as soon as his lips meet the princess's, it is clear that this fairy tale is far from over.
With a desperate fairy's last curse infiltrating her mind, Princess Aurora will have to navigate a dangerous and magical landscape deep in the depths of her dreams. Soon she stumbles upon Phillip, a charming prince eager to join her quest. But with Maleficent's agents following her every move, Aurora struggles to discover who her true allies are, and moreover, who she truly is. Time is running out. Will the sleeping beauty be able to wake herself up?
My thoughts:
Well, I was really pumped about this book because I LOVE Sleeping Beauty. I didn't bother reading the first one in this series because I read some pretty awful reviews and didn't have time to read something that was going to be mediocre at best. Unfortunately, I am stuck right in the middle with this title, didn't love it but didn't hate it either. I felt that this could be a very confusing read for many people with the way it jumps around and some of the writing is just too basic (not sure if that's the word I'm looking for here, but it will work). On the other hand, this was a wonderful idea and could have been fantastic! I wanted to be sucked in and attached to the characters, but I just wasn't. I will still purchase for my high school library, as I did the first in the series, because I can imagine some of my students will enjoy these; but, unfortunately, it will not be high on my list for recommending.
My rating: 3/5