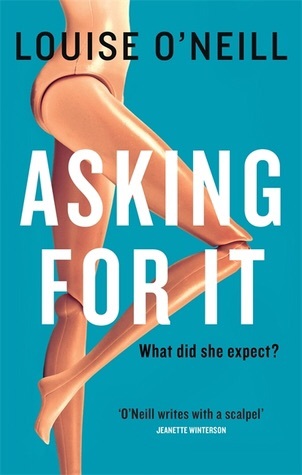 Asking For It by Louise O'Neill
Summary from Goodreads:
It's the beginning of the summer in a small town in Ireland. Emma O'Donovan is eighteen years old, beautiful, happy, confident. One night, there's a party. Everyone is there. All eyes are on Emma.
The next morning, she wakes on the front porch of her house. She can't remember what happened, she doesn't know how she got there. She doesn't know why she's in pain. But everyone else does.
Photographs taken at the party show, in explicit detail, what happened to Emma that night. But sometimes people don't want to believe what is right in front of them, especially when the truth concerns the town's heroes…
My thoughts:
Okay, I have been waiting for this book to come out in the U.S. for ages and ages. I follow Louise on social media and was dying for it because I am obsessed with her first title Only Ever Yours. I knew what this book was about from her posts and all the awards/reviews it has received. I finally got my hands on it and ordered for my high school library, and I was not disappointed! This is an extremely tough topic that I know will ignite conversation and, possibly even some controversy, among my students; but, it is a valuable, necessary story. I will be putting this into the hands of as many students as I can. Emma's story is heartbreaking, horrifying, and totally relatable for any female. It was like you were in her head and feeling all the awful things she was feeling. My school is really pushing a campaign to make students aware of what they post on social media and how it affects others, so this book came at a perfect time. We really need to think about the way our world looks at the rape culture and people always thinking that the girls were asking for it in cases like this. Females should have a right to be proud of themselves and look beautiful without having to worry about being attacked. I don't want to give any spoilers, but I would not be opposed one bit to reading a sequel to this book so I can find out what happened!
My rating: 5/5