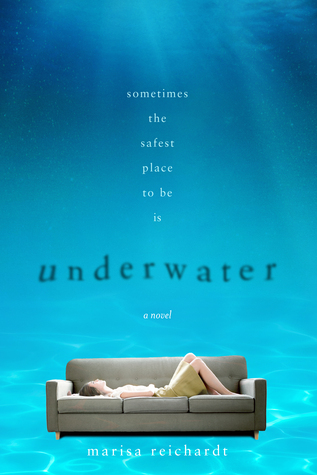 Underwater by Marisa Reichardt
**This review is based on an ARC from Netgalley, release date 1/12/16.
Summary from Goodreads:
Morgan didn't mean to do anything wrong that day. Actually, she meant to do something right. But her kind act inadvertently played a role in a deadly tragedy. In order to move on, Morgan must learn to forgive—first someone who did something that might be unforgivable, and then, herself.
But Morgan can't move on. She can't even move beyond the front door of the apartment she shares with her mother and little brother. Morgan feels like she's underwater, unable to surface. Unable to see her friends. Unable to go to school.
When it seems Morgan can't hold her breath any longer, a new boy moves in next door. Evan reminds her of the salty ocean air and the rush she used to get from swimming. He might be just what she needs to help her reconnect with the world outside.
Underwater is a powerful, hopeful debut novel about redemption, recovery, and finding the strength it takes to face your past and move on.
My thoughts:
This is the second book I've read in 2 weeks about a school shooting…disturbing, much? Yet, somehow, it is still fascinating. This one is not based solely around the events of the school shooting like my earlier post this month, but more on Morgan's recovery after the fact.
I found this book very interesting and could I really liked the realness of the characters. Morgan is dealing with a tragedy in the best way she knows how, yet she realizes there could be a different, better way to move on. Evan is extremely understanding and a genuinely good person, definitely a likeable character. I enjoyed the author's writing style and the flow of the story. It was interesting finding out in little bits what really happened to Morgan on that terrible day.
Overall, I would highly recommend this book and will be purchasing for my high school library. I have some students who will really enjoy it.
My rating: 4/5