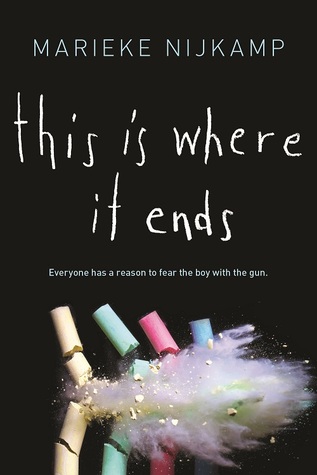 This Is Where It Ends by Marieke Nijkamp
**This review is based on an ARC from Netgalley, release date 1/5/16.
Trigger warning: This is a book about a school shooting/hostage situation.
This is a story told from multiple viewpoints over a short amount of time about a school shooting. After a morning assembly, everyone (almost everyone) is locked in the auditorium of the school and the shooting begins. As students begin to figure out what is happening and who the shooter is, the intensity really gets started. From outside of the auditorium, a few students who were other places have to try to get help and figure out what is going on until police arrive. This is a school, seemingly, in the middle of nowhere, so that help does not come as quickly as they would like.
This was one of those books that I read in about two sittings because I could just not put it down. I had to know what was going to happen and who was going to survive. As morbid and upsetting as books about school shootings are, I just get engrossed in them.  Is that weird? It is also terrifying because the whole time I imagining it as the school I work at. (Horribly terrifying!) This is the kind of intense book that really gets you thinking and is more scary than any book about serial killers, ghosts, etc.  I also saw all the flaws in how the police reacted based on how we have been trained as school staff to respond and to expect in this kind of situation. Though it is told from many viewpoints, I never found it confusing or hard to follow.
Anyway, I would highly recommend this book to anyone who likes this kind of story. I will most likely order it for my school library, though it scares me a bit to do so…even though I hate to admit that.
My rating: 5/5